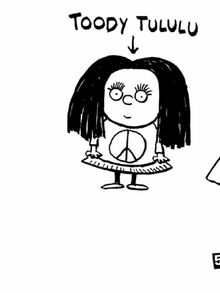 Toddy Tululu is the president and founder of YIP YAP. On the outside, she appears to be a sweet little girl, but she is prone to anger. She was friends with Scutaro Holmes and Angel de Manzanas Naranjas in Timmy Failure: The Book You're Not Supposed to Have.
Trivia
Toody Tululu's peace shirt is irony, considering all the treats she made against people.
Toody's hair stands up when she is mad.